THE PROFESSIONAL KNIFE SHARPENING SYSTEM
20+

TYPES OF EDGES SHARPENED!

50+ Years

AMAZINGLY SHARP KNIVES!

>1,000,000+

SHARPENERS SOLD!
Sharpening a blade? Get the leader in knife sharpening tools, a professional knife sharpener now available to everyone.
LAWN MOWERS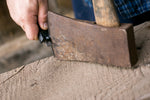 AXES & HATCHETS
SICKLES
RAZOR KNIVES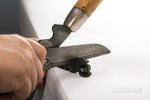 CLIPPERS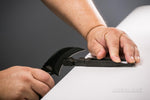 HAWKBILLS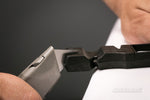 CHEF'S KNIVES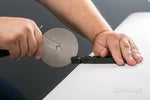 PIZZA CUTTERS
Discover Selectool: The Ultimate Knife Sharpener for Professional Results
Are your knives losing their sharp edge? Don't worry, Selectool has got you covered. As the leading name in knife sharpening systems, Selectool can sharpen more than 20 types of knives, including chef's knives, serrated knives, and even scissors. With over a million Selectools sold worldwide, our reputation speaks for itself.
Made in America with uncompromising quality, Selectool is the go-to choice for those who demand the best. Our innovative technology refines the edge of your blades, ensuring they regain their sharpness and precision. Whether you're sharpening your kitchen knives, pruning tools, or even pizza cutters, Selectool delivers outstanding results every time.
The secret to Selectool's effectiveness lies in its dual-action sharpening process. With a manual sharpener that accommodates both coarse and fine sides, you can effortlessly sharpen your knives to perfection. Simply hold the knife in the slot, pull it across the sharpening stones, and witness the transformation as your dull knife transforms into a razor-sharp tool.
Say goodbye to blunt blades and hello to sharp edges that effortlessly glide through your ingredients. Selectool is designed to refine the edge of your knives, ensuring they deliver optimal performance in the kitchen. Our professional-grade sharpening tools guarantee results that exceed expectations, making us the best choice for chefs and home cooks alike.
With Selectool, you can trust that your blades are in safe hands. Our precision engineering and meticulous craftsmanship ensure that every sharpening session yields impeccable results. Join the ranks of those who rely on Selectool as their trusted partner in maintaining the longevity and effectiveness of their knives.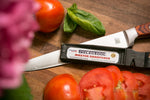 𝗦𝗘𝗟𝗘𝗖𝗧𝗢𝗢𝗟 - $𝟮𝟵.𝟵𝟱  $̶̶̶4̶̶̶9̶̶̶.̶̶̶9̶̶̶5̶
Made in America - Lifetime Warranty
Ready to experience the best knife sharpening system on the market? Order your Selectool today and rediscover the joy of effortlessly sharp blades. We ship anywhere, both domestically and internationally, so you can enjoy the benefits of Selectool no matter where you are in the world. Invest in the finest knife sharpening solution and elevate your culinary experience with Selectool.
Work sharp again with a knife edge that gets the job done right. Whether you need a kitchen knife sharpener, a lawn mower blade sharpener, or a pocket knife sharpener, you'll get the perfect cut with Selectool. 
FREE US DELIVERY International Shipping: YES 
LIFETIME WARRANTY 6 MONTH Money-Back Guarantee! 
MADE IN AMERICA And Always Will Be!
BUY NOW
"A few swipes through the SELECTOOL and the knife cut through paper like butter."

- Peter Vincent

"I had many knives that wouldn't cut. Using this, they now do."

- Jerry L. Edmonds

"I'm running out of things to sharpen!"

- Alan Gladson

"This is FAR SUPERIOR to those "fixed V" inserts."

- Mark Knowton

"Follow the instructions and this will put a perfect edge on your blades. Great stuff here."

- Eli Alger

"Where has this been all my life?"

- J.R. Newmiller

"This thing kicks ass!!! All of the knives that have driven me nuts for years are all razor sharp now (including an old pair of scissors that my Mom passed down to me). Just follow the instructions. Amazing product!!"

- Kevin Hall
FREE US DELIVERY

International Shipping: YES

LIFETIME WARRANTY

6 MONTH Money-Back Guarantee!

MADE IN AMERICA

And Always Will Be!